You've heard the old saying, no two snowflakes are alike. Same goes for the team at MPW Marketing. We're a diverse group of people from different backgrounds, different interests, and different specialties. But there's one thing we definitely have in common, and that's creating the best possible client relationship with you. Learn more about the folks behind the MPW team, and how they can help meet your unique needs.
Our dedicated team of employees can help you with the media, account management, creative and web services you need to help you not only get the message out to your clients but to thrive. We help businesses and organizations of all sizes achieve success, and your company is no exception - we take the work we do for you seriously. We sit down with you and learn about your company, your unique products and services, your philosophy, and your specific needs. We care about where you came from, where you are now and where you're poised to go in the future. We take a holistic approach to your brand because we don't just want to be your advertising agency - we want to be your partner in success.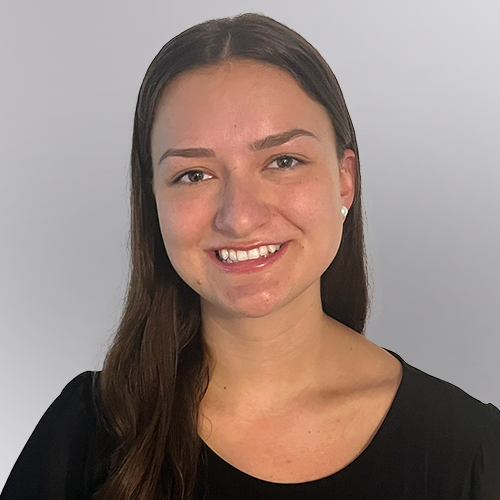 Victoria Miserere
CRO Specialist
Victoria Miserere is here to help make sure people don't just visit client websites – they become customers. In her role as CRO Specialist at MPW Marketing, she employs all the tricks of the trade in order to ensure that website visitors are engaged and excited about all that our clients have to offer.
A graduate of SUNY Oneonta, Victoria has her finger on the pulse of all things conversion rate optimization, and her skills make her a valuable member of our web team. She's ready to help make client websites an integral piece of their marketing puzzle. When she's not working hard to help our clients get the conversions they need, she enjoys painting, drawing, time in the great outdoors, and staying active.
"The future belongs to those who believe in the beauty of their dreams." -Eleanor Roosevelt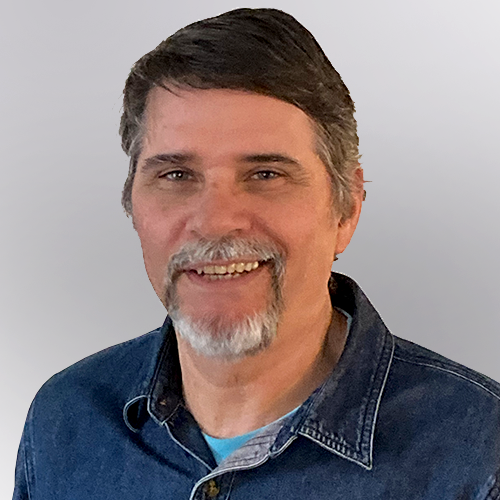 Bud Sperry
Senior SEO Specialist
Bud Sperry joins the MPW Marketing team in the role of Senior SEO Specialist. He began his career in SEO in 2014, just after the Google Penguin was released. He has worked in the SEO field as a consultant and specialist since, and has played a pivotal role in helping companies regain their lost rankings. Prior to working in SEO, Bud worked in the book publishing field for 20 years as an editor, an acquisitions editor, and an associate publisher, with many of the titles he worked on still in publication.
A well-rounded individual, Bud has a BA in History from UCLA. He lives in the woods of New Hampshire where he enjoys fishing at the lake across the street and hiking in the local woods. When the weather is less friendly, he enjoys gaming on his PS5, doing Native beadwork, and reading.
"But let the mind beware, that though the flesh be bugged, the circumstances of existence are pretty glorious" -Jack Kerouac, The Dharma Bums
Dave Johnson
Business Development Specialist
Helping businesses connect is nothing new to David Johnson, MPW's Business Development Specialist. David has spent his entire career working in advertising sales, management, and leadership. For more than three decades, he's been pioneering new territories and crushing sales goals and quotas. He brings his extensive knowledge and skills to every interaction, because he not only wants MPW Marketing to succeed, he wants to help potential clients achieve their goals as well.
In addition to his career in advertising, David is also an entrepreneur and writer, having been involved both in several new businesses and publications. If you want to know everything there is to know about wine or coffee roasting, he's your man – his eclectic career has allowed him to gain expertise on all sides of the marketing table. When he's not working for MPW or on his myriad of other ventures, David enjoys cycling, cooking, traveling, and spending time with his fiancée and her family.
"I have no special talent. I am only passionately curious" -Albert Einstein
Evan Chaires
Finance
Evan Chaires came to MPW Marketing on an internship basis, and has proven his ability and work ethic to the company over and over again; so much so, he has been appointed MPW's bookkeeper. He graduated from SUNY Poly this year with a dual major in Business Administration and Finance, and has put his educational experience to good use since the moment he walked through the door.
In addition to his love for numbers, Evan also has a great love for the game of soccer. He played year-round starting at the age of four, and served as captain of his team during his junior and senior years at SUNY Poly. Setting his shin guards aside for the moment, Evan has now taken up golf. He also enjoys playing video games and reading.
"You become what you think about." –Earl Nightingale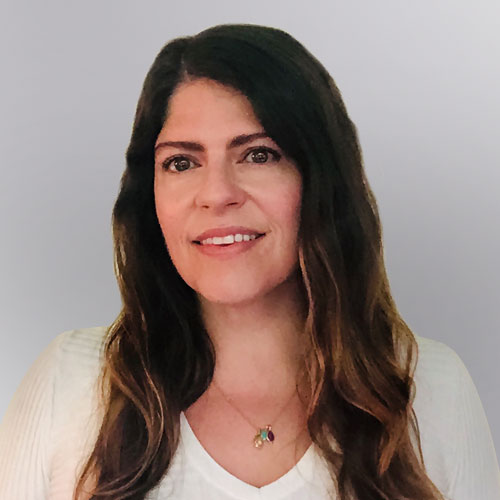 Melissa France
Online Specialist
It was only "fashionable" for MPW Marketing to bring Melissa France onto the SEO team. She worked as a technical color specialist in the Garment District of NYC for nearly a decade, and now she brings her eye for detail to MPW as an online specialist, assisting the web team with technical and analytical tasks.
Originally from New Jersey, Melissa has been a bit of a world traveller, living in both Italy and Vail, CO. She's now settled in New Hartford, NY where she lives with her husband Todd and two cats. In her free time, she enjoys nature, hiking in the Adirondacks, swimming in lakes, and the practice of Yoga.
"You're off to great places! Today is your day! Your mountain is waiting, so get on your way!" -Dr. Seuss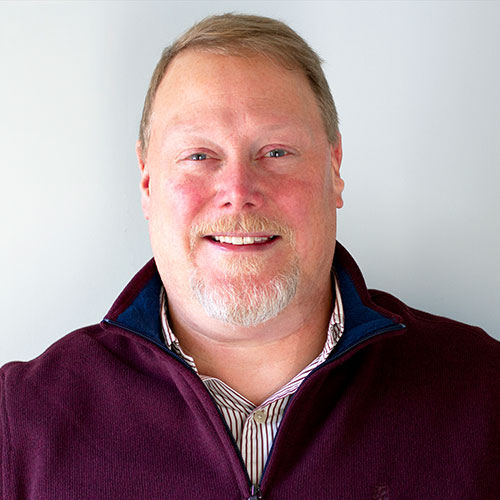 Scott Williams
Finance Manager
Scott Williams has joined the MPW Marketing team in the role of Finance Manager. Scott has had an extensive career in business, finance and higher education, spanning three decades. He was most recently Vice President and Academic Dean of the Utica School of Commerce, and enjoyed working with both the faculty and students. As someone who finds great reward in community involvement, Scott has served on several area boards of directors, as well as actively participated in many civic organizations.
At MPW, Scott is responsible for the timely, accurate billing of our clients, as well as the day-to-day bookkeeping and Accounts Payable/Accounts Receivable responsibilities for the agency.
When he's not crunching numbers at MPW, Scott loves spending time with his wife Tricia, his four teenage children, and their boxer/Great Pyrenees puppy. He enjoys vacationing in the Outer Banks, warm summer evenings by the fire pit, and golfing.
"Today is Friday and NO Friday is a BAD Friday." – Dr. Donald E. Bain, St. John Fisher College President Emeritus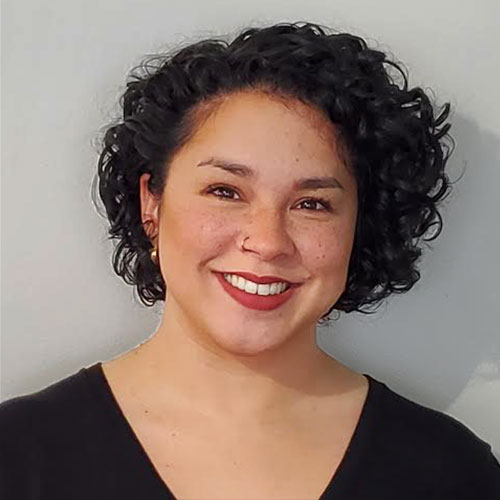 Sheena Ambrocio
Account Manager
Sheena Ambrocio is a graduate of the Newhouse School of Public Communications at Syracuse University. She spent several years in New York City working in fashion, hospitality sales, and special events management. Sheena returned to the Mohawk Valley in 2015 to join Turning Stone Resort Casino as a Catering Sales Manager spearheading the sales and event planning efforts for the corporate, social, and non-profit markets. She brings to MPW Marketing years of experience in bespoke planning and a passion for building lasting client relationships.
Sheena lives in Utica with her husband, Luis, and two dogs, Jolie and Oliver. Naturally inquisitive, Sheena enjoys learning as much as she can about everything! Her favorite topics include food, animals, history, and cultures. She is most happy traveling to new places, trying new restaurants, and testing out recipes in the kitchen.
"I have no special talents. I am only passionately curious." – Albert Einstein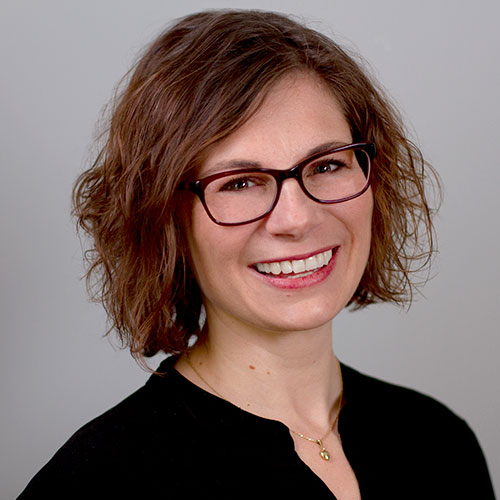 Vera Chapman
Brand Strategist & Web Project Lead
In her role as Brand Strategist and Web Project Lead, Vera Chapman enjoys going the extra mile with clients to help them create a brand that is most unique and perfectly suited to them. Skilled at digging deep with clients in one-on-one settings, Vera helps them to uncover their needs and goals from the same side of the table. She works with clients in diverse industries (from healthcare to HVAC to medical manufacturing!) to create an experience that not only gets the job done, but allows the client to feel confident and at ease. Vera was born and raised in South Africa, but now calls Hamilton, N.Y. home. The mother of two, and her husband David, a rugby coach at Colgate University, enjoy the labor of love that is restoring their 1800s home, and spending time together as a family. Vera is also a holistic wellness enthusiast.
"The magic happens outside of your comfort zone." -Robert Ingersoll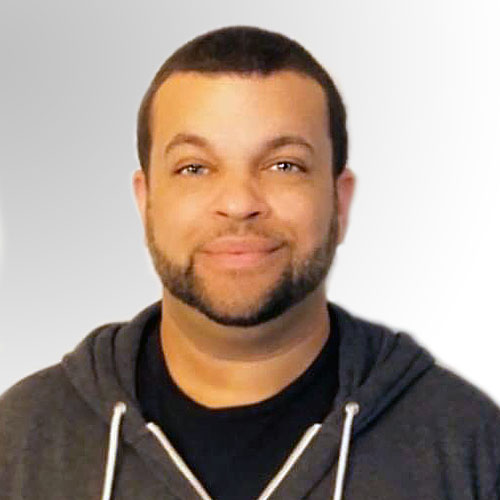 Dan Grimes
Developer
Dan Grimes joins the MPW Marketing team as the agency's WordPress Developer. With degrees in website design and maintenance, as well as communication information and design, Dan is responsible for making sure clients' websites are running as smoothly and robustly as a '67 Corvette Stingray. Dan has the experience needed to get the job done, too – before coming to MPW he worked in information technology and web content coordination. When he isn't making sure websites are working like a well-oiled machine, he enjoys traveling throughout New York with his fiancée, bowling, e-sports, and cars. He and his fiancée share their home with Layla, a 140-pound Great Dane.
"Twenty years from now you will be more disappointed by the things that you didn't do than by the ones you did do."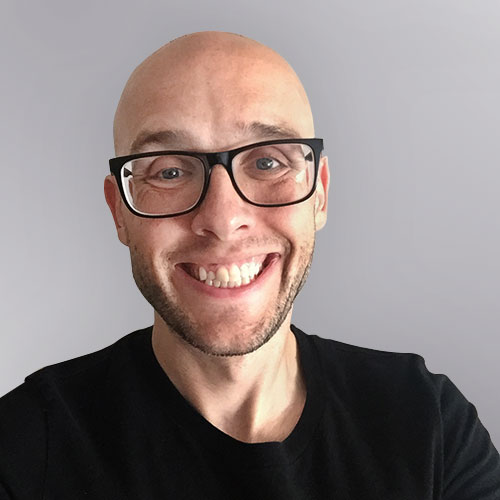 Mario Restive
Video Producer
Mario Restive isn't new to MPW Marketing – pretty much since its inception, the company has been working with him on a freelance basis. Already having a great appreciation of his skills as a videographer, when the opportunity arose for him to come work with MPW full-time, we were more than happy to bring him aboard. Mario has a film degree from Full Sail University, worked as a freelance videographer and editor for 13 years, and currently is co-owner of Nomad Cinema, a mobile outdoor movie venue.
"I have come here to chew bubblegum and kick ass – and I'm all out of bubblegum." –Rowdy Roddy Piper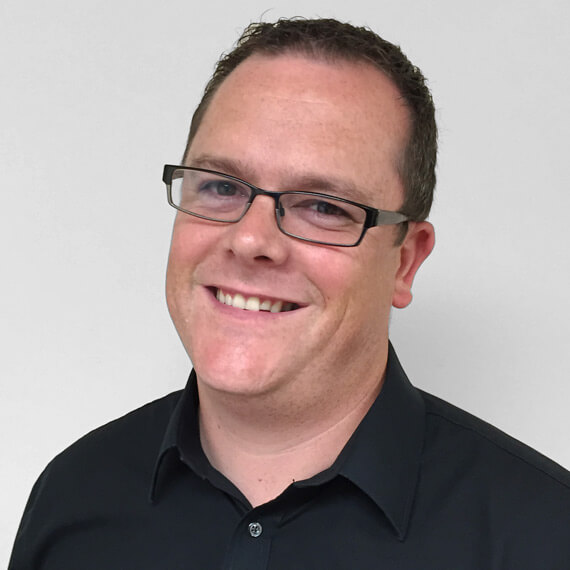 Matthew Wilson
Owner/Account Strategy
Matt founded MPW with a belief that clients should never have to pay through the nose in order to achieve real success – With the right approach, excellent work and real results can be achieved no matter what the budget. He also envisions a workplace where hard work, dedication and attention to detail coexists with a true sense of family, teamwork and quality of life. MPW is the fruition of these ideals.
According to Matt, "The premise of what we do at MPW isn't very hard. Reach the right people, with the right message." He's in charge of helping to make that happen. As the lead on account strategy, Matt provides big-picture media, marketing and creative approach for MPW's clients. Today the firm is one of the area's largest advertising agencies, working with a broad spectrum of clients from local non-profits to larger retailers and major regional/national multinational accounts.
Matt's in it for the people. He loves to help good people succeed in their marketing endeavors and to help make MPW a place that attracts great talent that's looking for a home. Matt also serves as a volunteer and board president for Rebuilding Together Mohawk Valley, helping low income homeowners live in safety, warmth and independence. Matt, Vicki and their son Jack live in Clinton, NY.
"Surround yourself with good people. The rest is easy." – Just about every successful person in history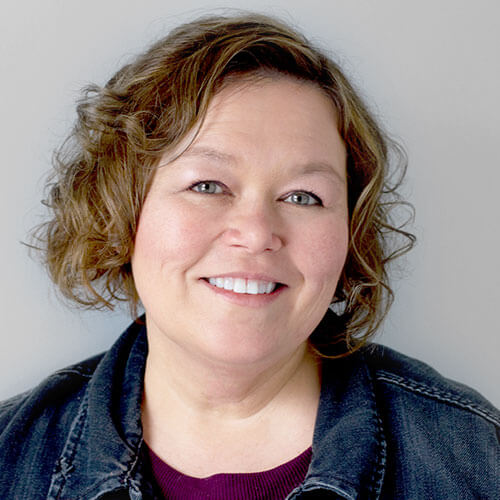 Stephanie Clark
Copy Writing and Public Relations
A self-professed geek girl, Stephanie enjoys writing in all its forms here at the agency, from press releases to e-newsletters to search engine optimized web content. She strives to present our clients' content in a way that's both relevant and interesting, so that people not only find the information that they need, but actually like what they're reading as well.
Before her work at MPW Marketing, Stephanie was an award-winning journalist, writing human interest pieces in local publications that included newspapers, an entertainment magazine and a women's magazine. When she's not writing for MPW, she contributes to a popular web-based magazine for girls who love science, technology, sci-fi and fantasy.
"The one thing that you have that nobody else has is you. Your voice, your mind, your story, your vision. So write and draw and build and play and dance and live as only you can."– Neil Gaiman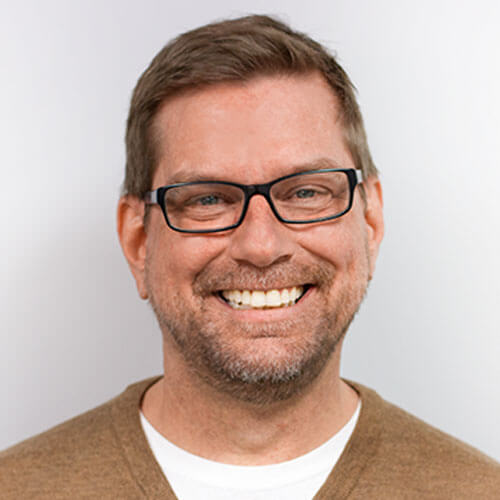 Geoff Storm
Owner/Creative Director
Though he insists there's "not necessarily" any correlation between the two, Geoff's true loves are fascinating stories and fine ales. As he leads the daily creative charge at MPW, Geoff spends most of his time telling our clients' stories – working with our team to craft compelling multimedia pieces that strengthen brands and deliver results.
An intuitive video and audio editor, Geoff honed his skills over 20 years as an award-winning broadcaster. In his spare time, he enjoys producing film and radio documentaries, mostly on historical topics or "cool people doing cool things." When he's not writing, shooting, recording, or editing, he's likely experimenting with a new homebrew recipe.
"To Hell with facts. We need stories!"– Ken Kesey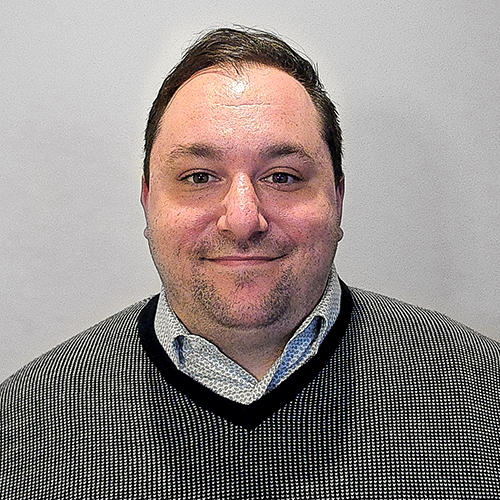 Paul Gabella
Media Buyer
Paul Gabella is no stranger to media buying. In fact, his first job out of Montclair State University was as an assistant television media buyer for the global agency MediaVest, where he purchased media for accounts that included Post Foods, THQ, Traveler's Insurance, and Sunny Delight. From there, he went on to work at a small but mighty agency, where he acted as Senior Media Buyer for Moose Toys, MGA Entertainment, and SpinMaster. He was responsible for managing nearly $100 million in annual media budgets. Paul brings expertise, charisma, and his own delightful sunniness to MPW Marketing.
Paul genuinely loves to learn about new things and more deeply about things he may already be familiar with, and is also an excellent writer. He enjoys everything from home improvement to psychology to football (especially the NY Giants.) He makes his home in New Jersey with his wife, son, and daughter, as well as Mike the cat and Eli the miniature boxer.
"Fortune favors the bold."-Latin proverb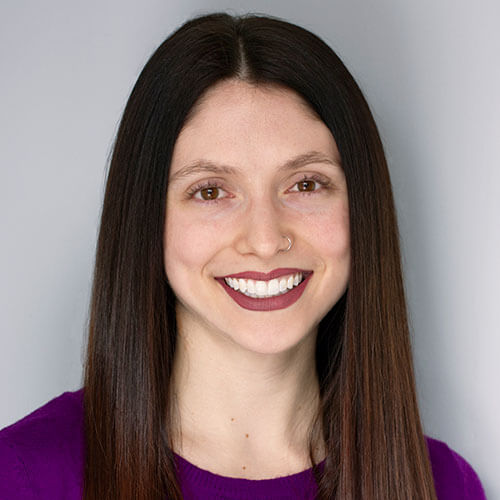 Colleen Bierstine
Social, PR & Reputation Manager
Colleen Bierstine is a self-professed social media addict. She loves using social media as a tool for conveying the personality of her clients' brands in order to grow their business and results. She believes it is a creative form of self-expression that fosters personal connections with people you wouldn't otherwise reach. Colleen loves making new digital friendships and sharing her own voice through social media in her personal time.
Colleen studied Public Relations at Utica College. Her background spans across marketing and communications, graphic design, and proposal writing. She is an advocate for physical and mental health and is a Certified Les Mills™ Group Fitness Instructor at Upstate Empire Fitness. She loves food, cats, and making people's days a little brighter in whatever way she can – whether by lending a hand, leading a killer workout, or telling a corny joke.
"And the day came when the risk to remain tight in a bud was more painful than the risk it took to blossom." – Anaïs Nin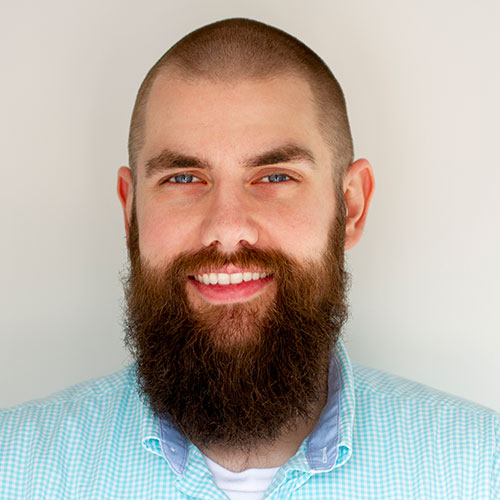 Shane Herrington
Online Design Director
Whether it's video games or craft beer, Shane's best described as being a giant, fun-loving kid (with a little adult thrown in). After moving from the Corning, NY area to become the first employee back in 2007, Shane has seen MPW transform into the strong and successful company it is today.
With a love for simple design and clean web aesthetic, Shane is our Online Design Director. Dual majoring at MVCC, he obtained degrees in Digital Animation and Graphic Communication: Illustration. Afterwards he studied at Canisius College, receiving a B.S. in Digital Media Arts. Always looking for something new to learn, Shane loves adding new skillsets to his belt.
"It's a very strange thing for a designer to say, but one of the things that really irritates me in products is when I'm aware of designers wagging their tails in my face."– Jonathan Ive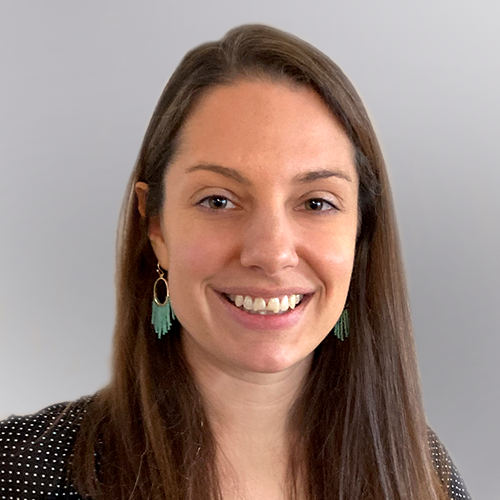 Sarah Burns-Miller
Design Director
Sarah is a designer and educator with a natural eye for detail and aesthetic. As MPW's Design Director, her adaptability and experience in various industries and markets makes her a valued asset to our clients. Sarah is also an Adjunct Professor at PrattMWP College of Art and Design, where she helps budding design students develop their typography skills.
Sarah is an active and enthusiastic member of the design community. She is President Emeritus of AIGA Upstate New York, and continues to serve her local chapter as a board advisor. She also serves AIGA nationally as a Chapter Advisory Council member. In addition, Sarah is one of the three founders and organizers of Create Upstate, a celebration of design and community that brings together makers from Buffalo to Albany.
"Content builds relationships. Relationships are built on trust. Trust drives revenue" – Andrew Davis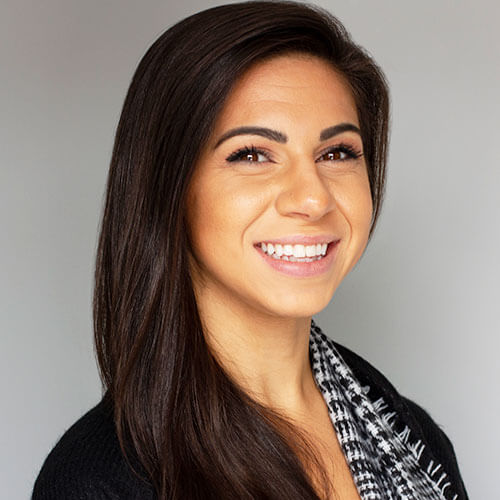 Samantha Ramos
Account Manager
A true blue Utica girl, Sam was born, raised and educated in the 13501. A graduate of Utica College, Sam previously worked in the clinical research industry, leading recruitment strategies for Phase 1 trials both nationally and internationally. She transitioned into retail and automotive advertising sales in 2015, and joins the MPW team as an account manager.
For Sam, helping clients achieve their goals is her top priority – and where she finds her greatest satisfaction. When she's not brightening up MPW with her sunny personality and amazing laugh, she spends her time teaching and choreographing at a local dance studio, where she's been dancing since she was three! She loves spending the rest of her downtime with her husband, their two dogs, and their family and friends.
"All of our dreams can come true if we have the courage to pursue them." -Walt Disney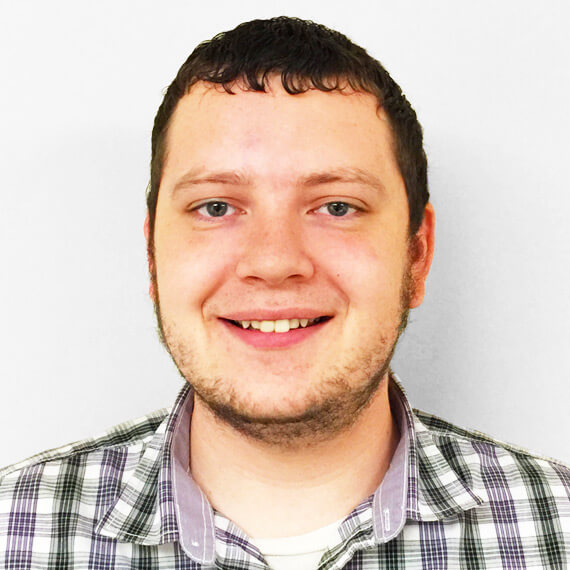 Mike Gaetano
Senior Media Buyer
While it may not seem like the most glamorous role in the world of advertising, for Mike Gaetano, working as a member of the media buying team at MPW offers him the chance to showcase his talents as both a mathematician and a researcher. Mike not only is a media buyer for the company, but he also audits invoices and processes co-op, which is a perfect use of his accounting degree from Utica College. Great with numbers and mind-bogglingly proficient with Microsoft Excel, Mike says he loves researching new marketing and media to bring his clients the best advertising bang for their buck.
When he's not crunching numbers, Mike can be found enjoying the great outdoors no matter what season – he's both an avid golfer and snowboarder. He keeps his hand-eye coordination to an optimum by spending his time indoors gaming – his favorite is Call of Duty. In fact, while in college Mike was a professional gamer, and came in 6th place in a national tournament, winning a year's salary in cold, hard cash for his team.
"You miss 100% of the shots you don't take." – Wayne Gretzky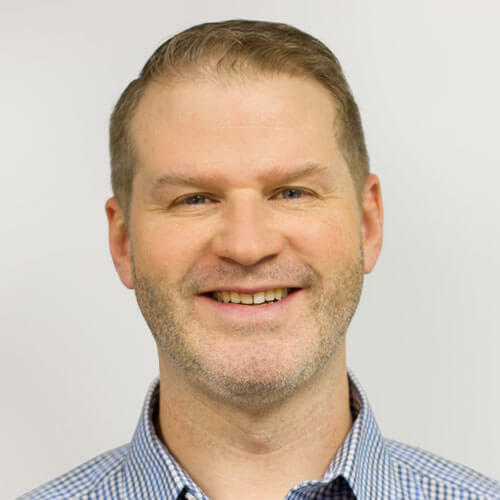 Daniel Acker
Owner/Media Planner
Dan helps guide the strategic and creative team as well as our clients to the right place for their voice to be heard. A partner at the firm since 2014, Dan's responsibilities include planning, negotiating, and executing media for MPW clients. On a given day, you'll find him researching new media opportunities, immersed in SEO theory, or analyzing campaign results. The pursuit of knowledge is endless; fortunately Dan takes great pleasure in understanding how everything works and isn't happy until he's reassured that the strategy is right and every penny was spent wisely.
During his tenure in sales and sales management at central New York TV stations, Dan gained valuable insight into the marketing habits of local, regional, and national clients as well as an insider's knowledge of how media is bought and sold. Dan uses this knowledge to leverage advantageous advertising rates for all MPW clients.
When he's not creating order out of chaos for a client, he's figuring out how to build, fix and improve things at his house.
"I believe that one defines oneself by reinvention. To not be like your parents. To not be like your friends. To be yourself. To cut yourself out of stone." – Henry Rollins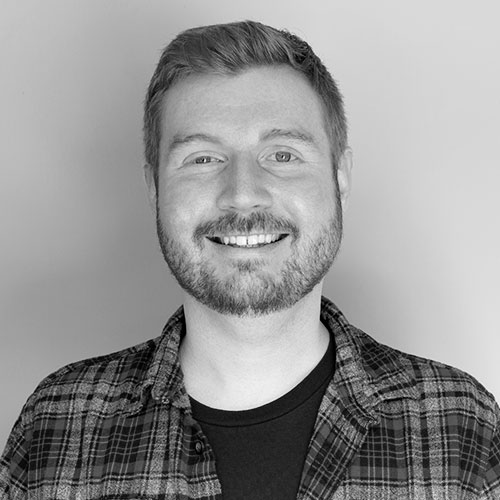 Adam Lafountain
SEM & Paid Social Manager
Adam LaFountain comes to MPW with a rich tapestry of marketing experience. From his college internship with Clear Channel Radio, to his most recent role as a media planner and buyer at Adworkshop in Lake Placid, NY, Adam has worked in a digital sales and marketing throughout his career. He brings that expertise to MPW as our SEM & Paid Social Manager.
Adam enjoys taking a deep look into every campaign he works on, making them the absolute best they can be by analyzing and implementing. He loves nothing more than taking an objective from a client and not only meeting it, but knocking it out of the park. He also loves giving back to his community, and he has participated in radiothons for community and health issues, Adopt-a-Highway cleanups and more. When he's not working, Adam enjoys the great outdoors, going to concerts and listening to music, reading, and spending time with his girlfriend, friends and family.
"Life is what happens to you while you're busy making other plans." -John Lennon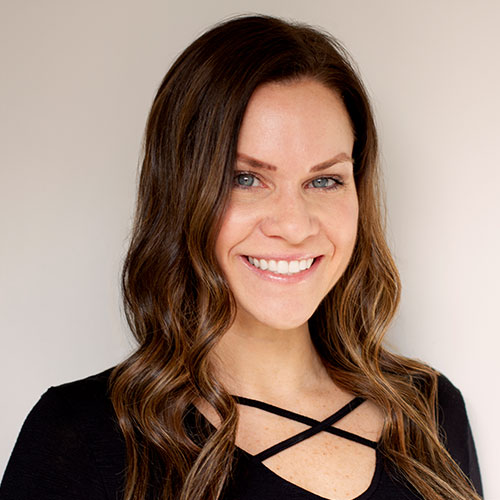 Shannon Todora
Senior Account Manager & Department Head
A little bit of 'crazy' is what separates the mediocre from amazing. As a psychology graduate, Shannon has self-diagnosed her little bit of 'crazy' and uses it to the betterment of all her clients. Her OCD is your company's new best friend! Shannon worked for a leading advertising, marketing and public relations agency in Fort Lauderdale before making her way back to Central New York.
When she's not on the MPW time clock, Shannon can be found with her favorite obsession, her family – husband David, and daughters Isabella and Liliana. From outings with her sorority sisters to fun adventures with her family, Shannon enjoys celebrating the everyday with friends and family alike.
"Be yourself; everyone else is already taken."– Oscar Wilde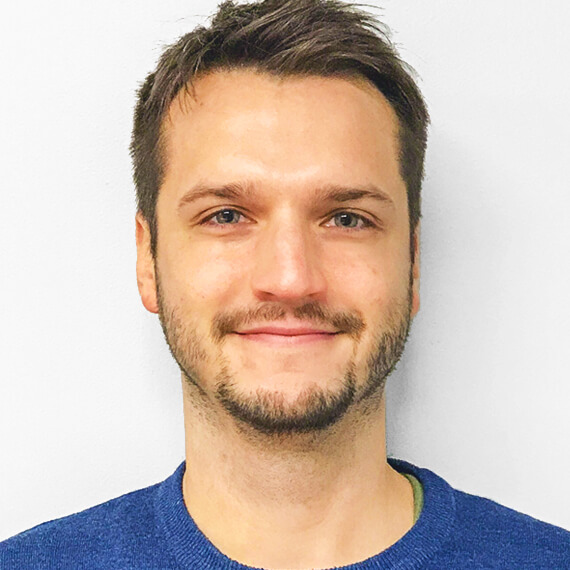 Corey Murtha
Director of Digital Optimization
Corey's role with the web team is to help out with multiple facets of an ever increasing workload. He is a jack of all trades, master of hockey and video games which are not priorities at MPW (yet). He moonlights as one fourth of Thumbstick Athletes, a weekly gaming podcast founded in 2011 and going strong.
An Ithaca College graduate, Corey initially took his film degree, technical skills and creativity to New York City and applied them at a major record label, growing through various marketing departments and working with global brands. After three years, nostalgia got the better of him. Preferring the woods and creeks of Upstate New York, he moved to the Utica area before joining MPW in early 2017.
"I'm not superstitious, but I am a little stitious."– Michael Scott